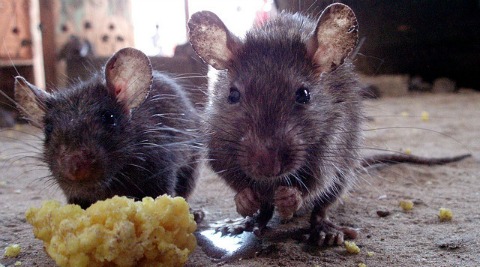 Developers of a new Nantwich housing estate are battling a plague of giant rats, councillors were told.
It's feared building work on the Stapeley Gardens site, off London Road, has disturbed a nest of rats on land close to the development.
David Wilson Homes are erecting 150 properties on the old Stapeley Water Gardens site.
One resident on London Road who backs on to the new development complained to local councillors about vermin.
Cllr Peter Groves told a Stapeley Parish Council meeting: "She said her garden had been infested with rats and that she had written to David Wilson Homes.
"I understand the developers are now using bait stations to try and control the problem. But once a rats' nest is disturbed, they move."
There have also been reports of rats plaguing the Cronkinson estate shopping arcade across Peter de Stapleigh Way.
"Bait stations have been placed in hedges around the shops," resident Noel Wagstaff told the meeting.
"Large black rats have been seen and we think they have come across the road from Stapeley Gardens.
"All the litter and takeaway rubbish thrown around does not help the situation."
A spokesperson for David Wilson Homes North West told Nantwichnews: "We share the frustration of local residents about the ongoing issue with vermin in the area.
"Our development was affected by this earlier in the year and we sought specialist advice and put measures in place to deal with the situation, exactly as other residents did.
"The pest control specialists we worked with believe the source to be in an area adjacent to our Stapeley Gardens development, in water and on land not owned by David Wilson Homes North West.
"We have not encountered any issues since the spring and have not received any complaints from residents on the development.
"However we are continuing to monitor the situation and are in discussion with both local residents and the owners of the nearby land to explore what can be done moving forward to eliminate the issue."
(Pic by Matthieu Aubry, under creative commons licence)