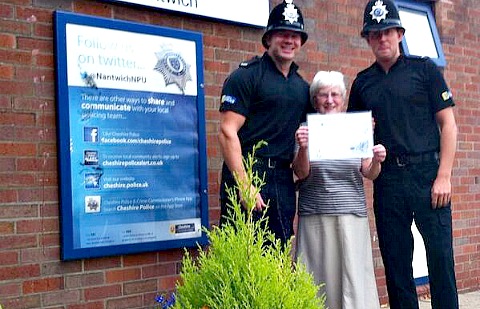 Pubs, shops and residents across Nantwich are celebrating as winners of the latest Nantwich in Bloom competition.
Judges spent days visiting the scores of entries to the 2013 event which celebrates those who have gone the extra mile to add colour to their premises.
There are prizes for pubs, businesses, shops, houses, community areas and allotments.
Gold in the "Pub with garden" class goes to The Black Lion, The Leopard and The Globe. The Wickstead wins the "pub" category.
D & D tyres, Crescent Garage, and Hall Smith Whittingham Solicitors win Gold in the "commercial" section.
In non-food, Gold goes to 1824, Gregory Roe Jepson, Grapevine, The Cookshop, and Peter Wilsons
In the "community" class, Nantwich Fire Station, St Anne's Church, Conservative Club, and Nantwich Police Station (pictured) were all awarded Gold.
In "food shops" class, winners were McCormack's, Café de Parism Nantwich Bookshop, and Clewlows Butchers.
In the "garden" competition, front garden Gold winner was Mr and Mrs Murray, Mr T. Jardine, Catherine Vickers, and Danni Hunt.
Mrs V I Jones won Gold in the "house frontage" category,  while community awards were given to Richmond Village, Brookfield House, Beatty Court, Cheyne Hall, and Edmund Wright Almshouses.
In the Brookfield Allotments category, full size plot winners were 1st Jim Kinch Plot 61, 2nd Margo Edwards Plot 21, and 3rd Cliff Young Plot 38.
Half size plot winners were 1st Sharon McLaughlin Plot 124, 2nd Anthony Cail Plot 115, 3rd Sandra Williams Plot 105.
In Welshmans Lane Allotments, full size plot winners were 1st Vic & Cynthia Croxson, 2nd Tony Platt, and 3rd Susan Ashby.
Half size plot winner was Phil Harper.