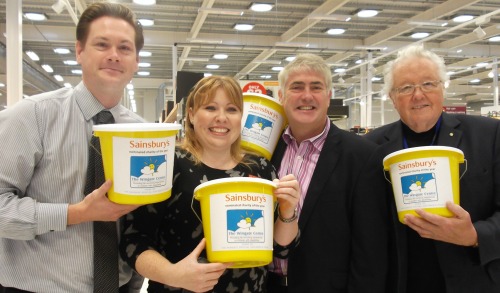 TV presenter and comedian Nick Hancock has thrown his support behind Nantwich Sainsbury's charity drive.
Hancock, who lives locally, is vice president of the Wingate Centre in Wrenbury, the store's chosen charity for 2013.
And the star of TV shows such as 'Room 101' and 'They Think It's All Over' was keen to show his commitment to the cause.
A Sainsbury's spokeswoman said: "Colleagues at the Nantwich store on Middlewich Road and customers were thrilled to see Nick at the store and to realise that he is a supporter of the charity."
The store has fund raising activities in place for the next year to raise money for the Wingate Centre.
This Saturday October 12 there will be volunteer bag packers and staff will be donning scarecrow outfits to make the bag packing event a more memorable experience for customers.
(Pic: Managers Adrian Seekins and Suzanne Roberts with Nick Hancock and Jeff Parsons, chairman of the Wingate Centre Trust)