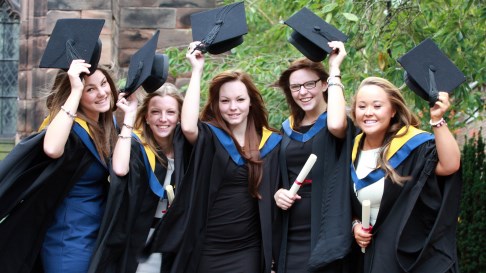 Graduates from Reaseheath College celebrated gaining their degrees at a high profile ceremony in Nantwich.
Dressed in gowns and mortar boards, 135 graduates spilled out of St Mary's Church for photographs with TV personality and farmer Kate Humble.
The ceremony marked the achievement of over 150 students who had completed degrees in agriculture, equine science, food technology, horticulture, machinery dealership management and countryside management, delivered in partnership with Harper Adams University.
Three graduates Sarah Forrester, Jillian Griffith (BSc Equine Science) and Adam Fox (BSc Food Technology) achieved first class honours.
Another highlight was the graduation of 23 dairy technologists who gained a globally recognised foundation degree in dairy technology.
Dairy technologists Navpreet Kaur Sidhu and Pedro dos Santos, who both work for Muller Wiseman Dairies, received "Student of the Year" awards along with their degrees.
Will Astley, who won Reaseheath Beacon Award following his performance in the RABDF Young Dairy Farmer of the Year competition, was among agriculture graduates.
Reaseheath Principal Meredydd David said high level education and skills was an important economic driver which in the last decade had become more accessible.
He saidt rural industries offered a "fantastic future" for skilled people who could help solve the challenges of energy, water and food security and the impact that these industries had on the countryside.
Reaseheath has invested £40 million into specialist facilities and resources on its Nantwich campus.
A further £17 million of investment is planned over the next two years.