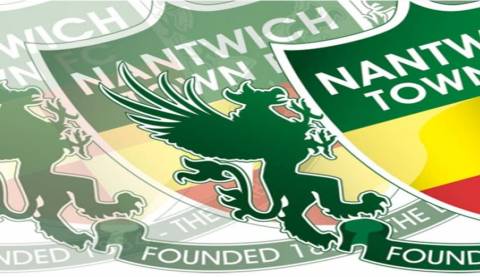 By James Briscoe
Nantwich Town strode in to the FA Trophy Third Round Qualifying with three goals in the final 10 minutes at St Ives in Cambridgeshire.
But it was not plain sailing for the Dabbers on a poor playing surface and blustery conditions.
Nantwich were forced to go route because of the pitch, which acted as a leveller for the hosts.
Mat Bailey put the Dabbers in the lead in the 56th minute when he slotted home after forward Karl Gibbs, standing in as goalkeeper after Nick Bennion was injured, failed to hold.
Four minutes later home substitute Avelino Vieira headed his side level with a controversial goal when the cross to him had seemingly already gone out of play.
Nantwich were not deterred though and after a 10-15 minute period of Saints' pressure, captain Alex Frost made the most of a rebound from an Oliver Devenney free-kick to fire his team in the lead again on 81 minutes.
Then Russ Courtney, playing as striker instead of his centre half position, found himself one-on-one with Gibbs and showed composure to score at the near post five minutes later.
After Courtney's goal it was clear luck had swung in Nantwich's favour and midfield warrior Mark Jones scored when he deflected another Devenney special in for a fourth to round off the victory in the final minute.
In the first-half, both sides had chances.
Nantwich stopper Jack Cudworth did well to save a firm Jared Cunniff shot on 19 minutes after Matty O'Neill's tackle spilled just outside the Nantwich box.
St Ives goalkeeper Nick Bennion, who later limped off in agony, showed his own class on 24 minutes diverting wide a low Ben Deegan shot with one hand.
Nantwich: Jack Cudworth, Sam Wilson, Andy White, Ross Davidson, Alex Frost (c), Matt Bailey, Oliver Devenney, Mark Jones, Ben Deegan (Max Harrop 78), Harry Clayton (Russ Courtney 78), Matty O'Neill (Osebi Abadaki 72). Subs: Jordan Wain, Phil Eastwood.