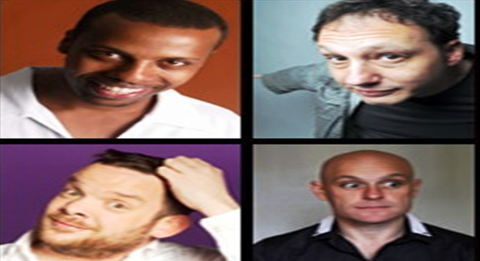 Four quality comedians  gave live stand-up fans a night to remember at Nantwich Civic Hall.
The latest "Very Best in Stand Up" event served up another delicious cocktail of comedy.
Compered wonderfully by Bristol's Mark Olver, the night offered three hours of hilarity which a near capacity audience lapped up.
Mark, who has supported big names like Russell Howard and Lee Mack, engaged the crowd from the off and ensured there was plenty of energy for his acts to feed off.
First act was Somalian-born Prince Abdi, a former primary school teacher.
Relatively new to the circuit, this young talent is sure to make a name for himself.
The first act often seems to be the hardest slot on the order of play with a luke-warm crowd still tucking into their drinks.
But Abdi mixed up his act with some nice anecdotes and left his best til last with his drunken bus passenger gag.
Star of the night for many was the middle act Eddy Brimson, who's only other appearance at Nantwich Civic Comedy's was on the verty first show back in 2010.
Brimson, who has been on the circuit for almost 15 years,  grabbed the evening by the horns and produced a quick-fire set which had many of us clutching at our sides.
His ability to seize on the sort of real-life scenarios we are all face, then take it to extreme with the audience a willing passenger along for the ride, was genius.
His "Save the Panda" sketch will live long in the memory.
It was a tough act to follow for final performer Carey Marx. But Marx did not disappoint.
With beer in hand, Carey barely moved more than a step or two from the mic stand.
He delivered a stunningly clever series of quirky stories and dark twisting humour that completed the night in wonderful style.
And Carey was clearly feeding off the laughter, continuing to fire gags at us well after his time was up!
Comedy fans don't have to wait long for the next dish. "Very Best in Stand Up" returns to the civic hall on Friday December 6.
For details visit www.civiccomedy.co.uk