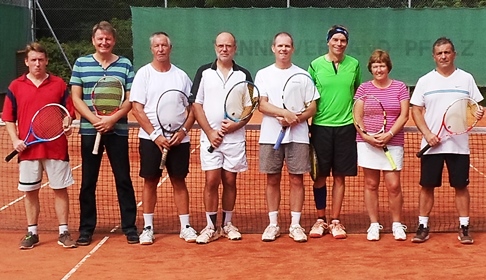 Members of Wistaston Jubilee Tennis Club travelled to Germany to play a landmark fixture.
Ben Reinhardt, Chris Raiswell, Diane Mayman and Jonathan Braithwaite made the journey to play Birkenheide Tennis Club.
They played four clay court matches against Armin, Stephan, Karl and Torsten, with the overall result a 2-2 draw.
WJTC presented Birkenheide with a small cup, featuring Wistaston's Joey the Swan logo, as a memento of their visit.
During their four-day stay, Ben, Chris, Diane and Jonathan also went to a local wine festival called 'Wurstmarkt' and went on a sightseeing tour of nearby Heidelberg.
Ben organised the visit as he has German ancestry with an Auntie Marga and Uncle Andreas still living in Birkenheide.
He said: "I have to say it was the best and most enjoyable tennis trip I have ever done and would love to do it again sometime – it was German hospitality and friendship at its best."
For details on WJTC membership, contact Bill Heath on 01270 560471.