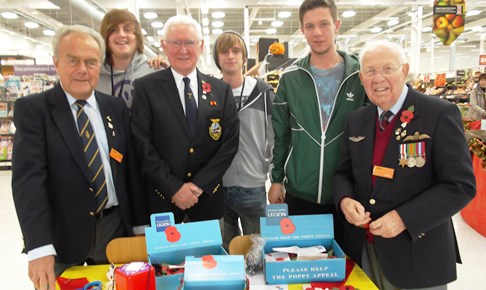 Nantwich students took time out to join war veterans selling poppies at a town supermarket.
They bought poppies and spent time with the Royal British Legion representatives at Sainsbury's on Middlewich Road where they had called in for lunch.
Sainsbury's spokeswoman Olwyn Payton said: "The lads stopped and went over to the table and bought poppies.
"They spent ages talking to the servicemen and I thought it showed how caring our young people really are, and not how they are stereotypically portrayed.
"They said they just wanted to represent people who cared for the appeal by buying poppies and servicemen by volunteering their time to sell them."
A Remembrance Day Service will take place on Sunday November 10 at 3pm at Wistaston Memorial Hall, Church Lane, Wistaston.
During the service one of the World War 2 Heroes from Wistaston will be remembered.
Driver Robert Walker Hilton, Royal Corps of Signals, died on September 8 1941, aged 25 Years.
The Memorial Hall Committee is dedicated to managing the 64-year-old building to ensure the memory of 16 Wistonians who perished in the Second World War is not forgotten.