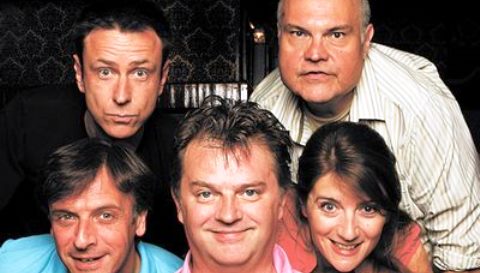 Some call it "comedy commando" or "improv art".
Whatever label you give Paul Merton and his chums, one thing is for sure – hilarity is on the menu. A packed audience at Crewe Lyceum Theatre can testify to that.
Merton is one of the UK's favourite comedians and has been for many years, through stand-up, radio, impro and of course on BBC's Have I Got News For You.
But this show, currently touring the UK until November 23, offers something quite unique.
It is largely thanks to the team Merton has assembled and the clever on-stage chemistry they ooze which has the audience in their palms.
His chums are Mike McShane, Lee Simpson, Richard Vranch and Suki Webster, who blend their creative, genius talents to help deliver this one-off night to remember.
From the moment Merton strolls onto the stage, the audience is wrapped.
Within seconds he is orchestrating the crowd to throw out suggestions on which to base comedy sketches.
The whole performance is based on this simple premise. The audience is the director, and they create an arena in which these five comedy geniuses can joust with their sharp-tongued wit.
As people shouted out ideas for weird professions, emotions, theatre and film genres, indoor and outdoor locations, you could almost see their creative juices flow.
Some classic impro sketches included teaching tigers to throw the javelin, a 70s cop show in a pet shop, an owl sanctuary in Berlin, and getting a quote off a builder.
They completed the performance with a brilliant piece of Shakespeare based on the provided theme "a shark in the shallow end".
The night was improvisation at its very best – five comedians who just like to mess around on stage, without a care in the world.
Memorable stuff. Go and watch them.
(Pic courtesy of http://paulmerton.com/)