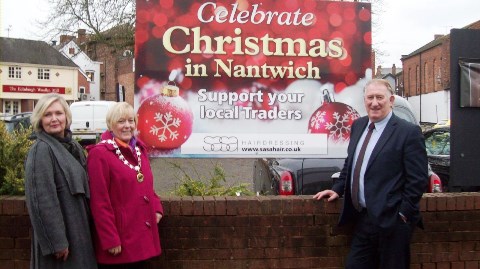 Christmas has come early in Nantwich after 40 advertising hoardings promoting the town's traders were unveiled.
The boards, which also promote the November 30 Christmas lights switch on, are  a joint project by Nantwich Town Council and local businesses.
Nantwich Town Council deputy mayor Cllr Christine Farrall said: "Last year's lights switch on was very successful.
"We wanted to make sure everyone across the area was aware of this year's event and also what Nantwich can offer at Christmas generally.
"We think that this year's switch on will be even better than before.
"In addition to our traditional market we also have a Farmers' Market plus a great schedule of entertainments including children's rides, Hog Roast, CAT Radio, free Father Christmas for the children, Malbank School Choir and local Latin American dancers AJ and Chloe, who did so well on 'Britain's Got Talent'.
"The big lights switch on will be carried out by TV Vet Steve Leonard, and there will be a fantastic musical firework finale at the end.
"It will be great free entertainment for everyone, to really kick off Christmas in Nantwich."
Nantwich Town FC has offered free parking from 4pm on the day of the switch on.
Shaun Cafferty, of property firm Martin&Co and director of South Cheshire Chamber of Commerce in Nantwich, praised local traders and businesses in promoting the town's Christmas offering.
"With the financial and practical support of individual local firms, we have been able to really get the message out there, promoting the huge Christmas lights switch on and the attractiveness of Nantwich as a great place to get your Christmas shopping.
"This is a great example of the town council and the local business community working together to drive up prosperity and to achieve things that wouldn't otherwise happen.
"It shows what can be done for the local economy when Nantwich Town Council and the local business community all roll up their sleeves and pull in the same direction, and we hope all Nantwich businesses will benefit from this increase in promoting the town this Christmas."
Nantwich Christmas lights switch on is on November 30, starting at 5.30pm.
For details, visit the town council website www.nantwichtowncouncil.gov.uk
(Pic: Sue Togay, town centre manage; Cllr Christine Farrall, deputy mayor Nantwich Town Council; Shaun Cafferty, Nantwich director of South Cheshire Chamber of Commerce)