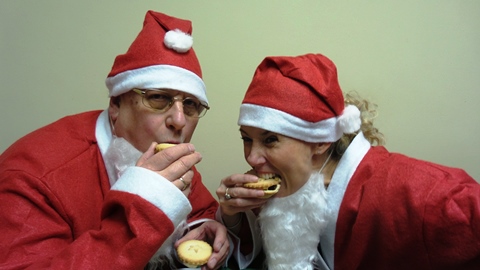 St Luke's (Cheshire) Hospice wants energetic Nantwich folk to help at their Santa's Day Out event.
The hospice is hoping for a bumper crowd at Cheshire's Oulton Park circuit on Sunday December 8.
And organisers are inviting local people and business teams to sign up, don their Santa suits and run, walk, bike, roller-blade or even scoot around the iconic racing track aid of the hospice.
Other fun events include a Santa Hospital Bed Push, which will see teams of four Santas pushing another Santa on a bed along a 500m track.
And there will be a Santa vs Mince Pie eating competition when entrants will work their way through a massive platter of pies in aid of St Luke's.
There will als0 be a Christmas market with food stands and gifts including non dropping trees, hand crafted fresh wreaths, holly and ivy bunches and fresh English Mistletoe from 11am-3pm.
St Luke's iconic double-decker London Routemaster, Luke the Bus, has been transformed into Santa's grotto for the youngsters.
Jane Thompson, hospice head of event management, said: "Whether it's running, skating, bed racing and eating mince pies as quick as possible, we need supporters, families and corporate teams to make this the best event yet.
"This year's race will have even more categories than ever. Along with Dashing Santas, Strolling Santas, Biking Santas and Rollerblading Santas we will be having Scooting Santas.
"You can complete the 5km circuit at your own pace returning to a well deserved certificate."
All adult Santas get a full Santa suit and youngsters will get a set of fun Christmas headwear.
Entry is £12 for adults and £5 for children.
Jane added: "We are not insisting on sponsorship as part of the package for the run. You can choose to take part just for fun.
"However if the hospice is close to your heart and you can fundraise, we have lots of ways you can do so and we do hope our fantastic supporters will take part in aid of the hospice's invaluable work.
"If you can raise £100 a person or £150 a family for St Luke's then we will refund your personal registration fee."
Contact Jane Thompson at St Luke's (Cheshire) Hospice on 01606 555688 or [email protected]
(Pic: Santas Alan Barker, of hospice lottery team, and Clare Dale of the hospice's fundraising team)