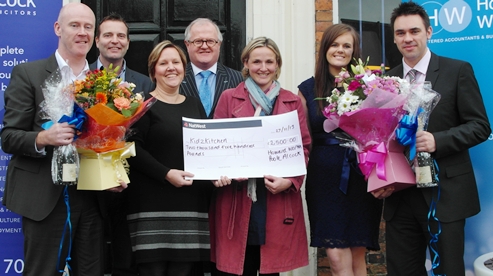 Two mums from Wybunbury have scooped first prize in the latestn Dabbers Den competition to find great businesses in Nantwich.
Tracey Cooke and Gill Fox were crowned champions for their new and thriving enterprise, KidzKitchen.
Judges in the competition, in its 2nd year, were impressed with the way the business provides educational and fun cookery classes and parties for children.
Tracey and Gill wanted to get more young people interested in cooking and baking and want to do it in a fun and encouraging environment.
Scott Harding, partner at Poole Alcock, said: "We were extremely impressed with Gill and Tracey of Kidzkitchen, their pitch was dynamic, engaging and their passion for their business really shone through.
"We look forward to supporting them as business mentors alongside Howard Worth Accountants and are excited to see where their business will progress to."
Howard Worth partner Mike Doherty said: "This year we had a record number of entries, which included some great new trading businesses and also some entrepreneurial business ideas."
Dabbers Den is run by Nantwich businesses Howard Worth Chartered Accountants, Poole Alcock Solicitors and held at The Residence in Nantwich.
From June 20 to October 20, entrants were able to put forward their proposals for a new business that didn't start trading before June 20 2012.
Top prize was £2,500, with accountancy mentoring by Howard Worth for 12 months, and 12 months' legal mentoring by Poole Alcock LLP
The Dabbers Den judging panel consisted of Mike Doherty, at Howard Worth, Scott Harding, at Poole Alcock, Natalie Moore of Natwest Bank, Cllr Peter Groves, and Ben Rafferty, owner of The Residence.