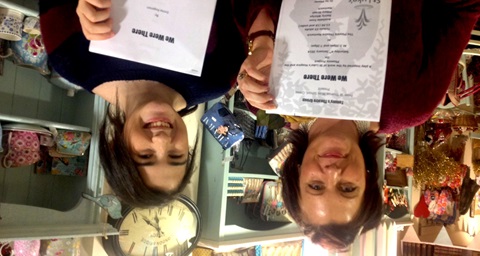 A talented Nantwich teenager has been invited to stage a poignant show she wrote after being inspired by St Luke's (Cheshire) Hospice.
Emma Rogerson, 15, of Delamere Road, Nantwich, has been taken aback by the huge success of her play We Were There.
The play tackles the sensitive subject of family bereavement from the view of two teenage sisters.
It also raises awareness on the hospice's Phoenix Project Bereavement Support Group for children.
Emma wrote the play in the summer after being inspired by a school visit from St Luke's (Cheshire) Hospice.
It has grown from an inspired idea to a full stage production with a cast of 16 actors and two musicians.
Her school's performing arts department "Tommy's Theatre Group" staged a one-off performance of Emma's play in aid of the hospice, which earned a standing ovation from family and friends.
She was then invited by Nantwich Players' amateur dramatic group to stage the show at their Love Lane theatre on Saturday January 4.
Emma's company will perform a matinee at 2.30pm and an evening show at 7.30pm.
The 7.30pm show is already sold out. Tickets for the 2.30pm performance are still available.
Emma said: "We Were There tells the story of two sisters growing up in a high school like any other teenagers.
"However their seemingly perfect life is shattered when they discover their mother Cathy is getting sicker and sicker before going into a hospice for treatment.
"As their father Anthony struggles to cope and their lives begin to disintegrate, Lucy and Lily have to find salvation and become stronger.
"When St Luke's visited our school earlier this year, I was really moved by the wonderful work of the Phoenix Project Bereavement Support Group for children as I didn't know such a vital service existed and neither did my friends.
"The response to the play has been amazing and I just hope it will raise awareness of the invaluable support St Luke's offers in the community. Of course, all the proceeds from tickets will go directly to St Luke's.
"Drama is my passion and I'm honoured people have enjoyed the play."
Emma's liaison at St Luke's Carol Smith says all the staff and patients at the hospice have been inspired by Emma's kind-hearted and generous support.
"Emma is a truly amazing example of our inspiring network of supporters across Cheshire and it is incredibly heart-warming to think that a school visit has inspired her to write such an emotional and poignant piece of work.
"I would encourage people of all ages to book their tickets to see Emma's amazing play, all the proceeds from which will go straight towards the hospice's patient care and wider work in the community such as the Phoenix Project Bereavement Support Group for children."
Tickets for the 2.30pm performance on January 4 are priced £5 adults and £2.50 children aged 16 and under.
Tickets are available from St Luke's Swirly Whirlys shop in Pillory Street, Nantwich or from 01270 626088.