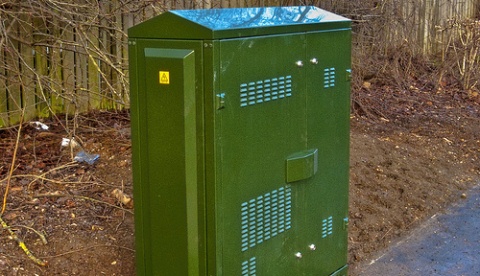 First communities to benefit from Connecting Cheshire's multi-million pound fibre broadband roll-out are announced
More than 15,000 premises are set to benefit from the first phase of investment in new fibre broadband networks across Cheshire.
And many of these will be in Nantwich and surrounding villages like Acton, Aston, Hough, Wrenbury and Wybunbury.
High-speed broadband will become available from March 2014 in more than 30 communities across Cheshire.
During the first phase, the majority of homes and businesses will be able to connect to the new faster fibre broadband.
Nantwich will also see additional fibre roll-out building on the commercial coverage in phase one.
Details of the planned roll-out were announced at a briefing held at Oulton Park, near Tarporley, attended by community representatives, councillors, business leaders and digital champions from around Cheshire.
The £28.5 million "Connecting Cheshire" broadband programme will be delivered by Openreach ­– BT's local network business to bring fibre broadband to more than 80,000 additional premises.
Maps and coverage information on the Connecting Cheshire website provide detail on areas to get fibre coverage to arrive in phase one.
It also shows proposed timescales for areas in the second and third phase of the programme, from summer 2014 and winter 2014 respectively.
More than 400 new roadside cabinets will be installed around Cheshire as a new root and branch fibre-optic network is rolled out.
Cllr David Brown, Deputy Leader of Cheshire East Council, said: "We have been working hard for more than three years to get to where we are today.
"This is an exciting time for Cheshire and the beginning of a journey that will see our communications landscape completely transformed. This is great news and will help boost local businesses and the creation of jobs across Cheshire."
Bill Murphy, managing director of next generation access for BT Group, said: "Whether you're a small business wanting to stay in touch with customers and suppliers, or parents with children using the internet for homework and playing games, whatever you do online, you can do it much better and faster with fibre broadband."
Sir Howard Bernstein, vice chair of North West European Regional Development Fund local management committee, said: "This programme will help local businesses make the most of superfast broadband, improving performance and helping to create and safeguard jobs.
"It will provide a major boost to the Cheshire economy and the North West European Regional Development Fund programme is pleased to be supporting it financially."