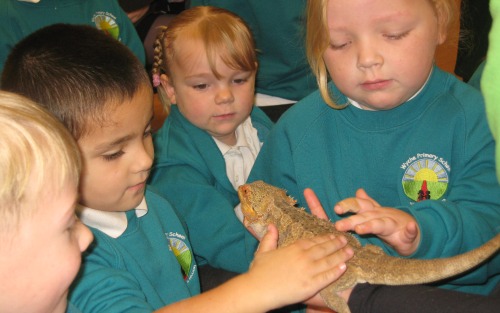 Pupils at Wyche Primary and Nursery School in Nantwich got to meet some furry – and not so furry – friends.
A range of animals visited the school on Manor Road from North West educational organisation, Zoo2U.
The children learnt about where different animals live and got to stroke owls, meerkats, hedgehogs, skunks, snakes, a bearded dragon and a chameleon.
"We had a wonderful time learning all about the animals and getting to cuddle them," said headteacher Wei Ling Lee.
"We are always keen to promote excellence and enjoyment within the curriculum and we are always eager for the children to be given the opportunity to participate in a wide range of fun learning experiences."
The children already enjoy weekly visits from Ruby, a local dog as part of the "Dogs as Therapy" scheme.
Claire Williams, teaching assistant, added: "The children are always really eager to read to Ruby.
"They learn social skills of waiting their turn, get to practice their phonic and reading skills and also learn that reading can be fun.
"Ruby always listens intently to the children!"