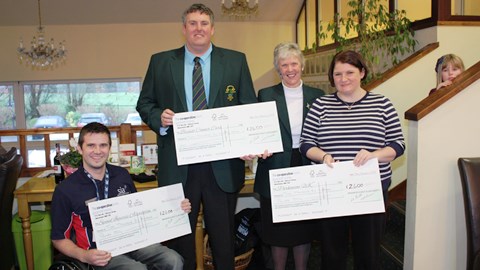 Big-hearted golfers at a Nantwich club have chipped in to provide their local area with a life-saving defibrillator.
Members of Brookfield Golf Club in Hankelow have all pitched in to help raise £7,800 over the last year.
They raised so much for charities nominated by 2013 captains Martin Stockton and Margaret Evans, they were also able to fund the new defibrillator.
The machine, which can save the lives of cardiac arrest sufferers, will be based at the club but available for use in Hankelow and surrounding areas.
Money was raised during events held throughout the year, such as a Grand Raffle and Charity Golf Day.
A "£5 envelope raffle" and a draw for an electric golf trolley took place at the year's presentation night on November 30.
Part of the £7,800 raised has been donated to causes such as Breast Cancer Care, Spinal Injuries Association, and Parkinson UK – the charities chosen by 2013 club captains Martin Stockton and Margaret Evans.
A club spokesman said: "Martin and Margaret decided they wanted to give something back to the club itself, so set a new challenge- to raise funds to purchase a defibrillator, for use at both the golf club  and in the  local area."
Following the Captains "Drive in" and farewell event on January 5, cheques  of £2,600 were presented to each of the charities and staff at Brookfield Golf Club accepted the new defibrillator.
Brookfield's new 2014 captains Jack Forbes and Lynne Sweeney will raise funds for  the Air Ambulance, MacMillan Nurses  and The Samaritans.