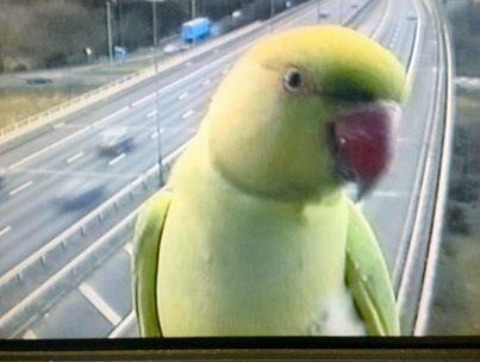 This "pretty boy" ruffled a few feathers among motorway patrol staff monitoring the M6 near Nantwich.
Operators were stunned to find the parakeet staring at them when they checked on cameras overlooking junction 16 of the motorway in Cheshire.
The bird, which had escaped its owner, managed to perch itself high up on the camera tower monitored by the Central Motorway Patrol Group (CMPG).
The group is made up police forces around the Midlands and responds to major accidents and incidents on our network of motorways.
And staff at the operations centre in Birmingham were given a colourful surprise when the parakeet peered into the lens!
But there was no need for officers to carry out a 'stop and perch' as it soon fled the scene.
So this is one intruder who won't be up before the beak!
(pic courtesy of @CMPG)