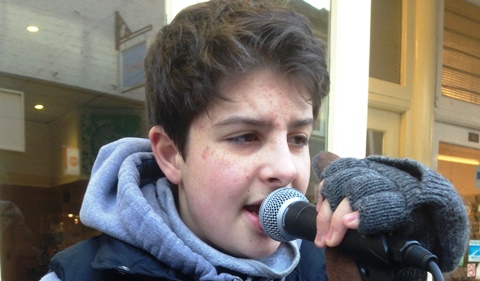 A Nantwich teenager is hoping to wow the audience with his singing voice at a charity night – after being spotted on Youtube.
Joshua Whittaker, 14, stepped forward when he saw a charitable shout for help from social media company Cheshire Ladders UK.
They need performers and entertainers for a charity birthday bash in aid of The Joshua Tree, which provides support to families caring for youngsters suffering from childhood cancers.
And Amanda May, owner of Cheshire Ladders, was so impressed after viewing Joshua's performances on a Youtube video, she snapped him up.
Joshua now hopes to wow the crowds when he sings at the party at Witton Albion Social Club in Northwich on March 1.
"He's such a sweet boy, and with a sweet voice to match!" said Amanda.
"It's great to see young entrepreneurs like this willing to volunteer and showcase. Youngsters like this are Britain's future."
The youngster already attends the LIPA 4:19 Academy, and is a member of the Stoke Youth Musical Theatre Company.
He recently performed as part of Visit Chester and Cheshire's Winter Wonderland and the Battle of Nantwich, and has been asked to do a number of charity events for 2014.
Follow Josh on Facebook at https://www.facebook.com/JoshWhittakerMusic and check out his music videos on YouTube.