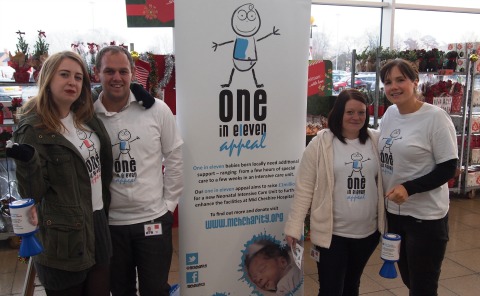 Lifestyle Services Group workers have raised £3,000 in one week for the special care baby unit at Leighton Hospital.
The employees at the South Cheshire company took part in a five-day charity challenge in aid of Mid Cheshire Hospitals Charity, One in Eleven.
They have now handed over the money to the fund which aims to help equip the new special care baby unit at Leighton Hospital, which will be completed later this year.
During the week of fundraising, employees held collections at Sainsbury's in Nantwich, Asda in Crewe and Bridgemere Garden Centre.
They also held a fun day involving over 1,000 employees and including a raffle, tombola and cake stall.
Joanne Wilson, from Lifestyle Services Group, experienced first hand the neonatal unit when her poorly daughter Mia spent three weeks there
She said: "We had such a fantastic time fundraising for the One in Eleven Fund and would like to thank the suppliers of our raffle prizes including Blue Bell BMW, Hilton, Rookery Hall and many company suppliers.
"We would also like to especially thank our employees for getting involved and raising so much money for a very worthy cause."
The amount raised  included a £500 donation from a supplier, a TV donated to be used on the new unit and a generous boost from LSG.
Mid Cheshire Hospitals Charity raised £1.8m for re-development work to build the new unit.
Approximately one in 11 of the 3,000 babies born every year at Mid Cheshire Hospitals NHS Foundation Trust will need additional support.
"This is a fantastic amount of money to have raised in just one week and we'd like to thank everyone who supported Lifestyle Services Group's fundraising activities," said Laura Bailey, MCHC fundraising manager.
"Thousands of families will be supported by the new neonatal unit and these funds will help us to purchase equipment to create a first class facility."