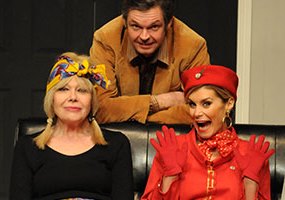 By Claire Faulkner
talking Scarlet returned to Crewe Lyceum this week with "Boeing Boeing"  their fabulous funny production about one man trying to cope with three fiancees.
"Bernard" juggles timetables to ensure none of the women he dates will ever meet each other.
His trustworthy and reliable maid "Bertha"ensures all the photographs are changed and no evidence is left behind.
This production proves that "Boeing Boeing", written in 1962 by Marc Camoletti, can still make audiences cry with laughter.
It's a production to be proud of.
The entire cast had perfect comic timing.
Anita Graham was simply wonderful as "Bertha", the maid who tried to keep up with the comings and goings of the flat.
However, I would go back and see the production again, purely for the energetic performance from Philip Stewart who played "Robert" and Ben Roddy who plays "Bernard".
The scene in which they try to keep all three women apart was just hilarious.
If you like situation comedy and want and evening of good entertainment then "Boeing Boeing" is for you.
But you'd better be quick. It only runs until Saturday Febuary 22 at The Lyceum.
Tickets are £16 with Saturday shows starting at 2.30pm and 7.30pm. For details online, click here
(pic courtesy of Crewe Lyceum)