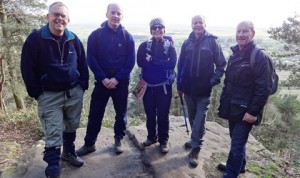 A new group "Cheshire Walking" is on the look out for new members.
The group aims to cater for all fitness levels with some of the walks short and based in Nantwich, while other walks are longer and further afield.
A recent walk took the group along a section of the Sandstone Trail at Bulkeley Hill and Rawhead.
To join sign up at their Facebook page: https://www.facebook.com/groups/121291244651866/
Meanwhile, The Sandstone Ridge Trust is on the look out for a new voluntary chairperson.
The trust was formed in 2012 to safeguard the Heritage Lottery funded project, the Habitats and Hillforts Landscape Partnership Scheme.
Now it wants a new leader to take it forward.
A spokesman said: "The Sandstone Ridge Trust are seeking expressions of interest for this voluntary role to help take them forward at an important time for Cheshire's natural and historic environment.
"Candidates will need management skills, experience of planning and monitoring projects and a commitment to the protection of the environment and heritage."
Anyone interested email [email protected] or write to The Sandstone Ridge Trust, Suite G7, Ground Floor, Northwich Business Centre, Meadow Street, Northwich, CW9 5BF by midday March 21.