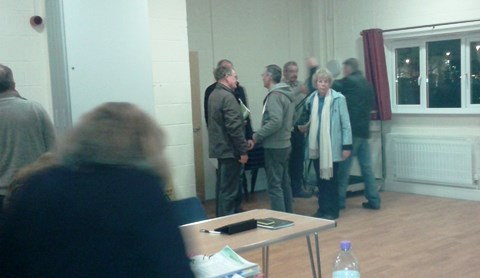 Parish councillors in Nantwich defended their decision  to ditch a £20,000 barrister to fight Muller Homes at a public inquiry.
Stapeley Parish Council had earmarked local taxpayers' money to pay for experienced legal counsel at the four-day hearing.
They wanted to fight Muller over their bid to start a 1,100-home "Nantwich South" village on land bounded by Peter De Stapleigh Way, Broad Lane and London Road, in Stapeley.
But just three days before the inquiry, held in Crewe last month, they announced they were ditching the barrister plan.
Councillors were quizzed by one resident over this decision at a public meeting last night (March 6) in Stapeley Community Hall.
Cllr Shaun Clough said: "It was to do with legal advice. We'd already spent £5,000 on getting advice from the barrister.
"And we were told rather than wasting more funds we took the advice at ended it there."
Cllr Matthew Theobald helped present Stapeley's case at the inquiry along with Cllr Keith Nord.
Cllr Theobald, who was also at the inquiry to represent Stapeley Broad Lane School governors, denied claims that a barrister from Muller Homes "made mincemeat" of the parish council case.
He added: "I think we had a robust, strong case which we presented very well."
The Planning Inspectorate is expected to deliver his verdict on the case in April.