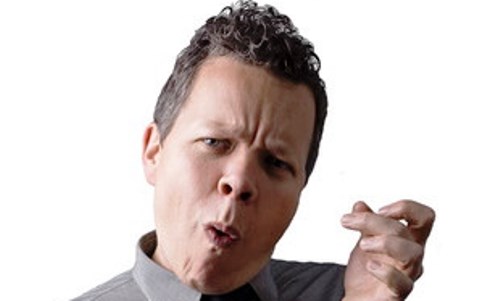 Four funnymen served up a delicious dish of original humour at the latest Very Best in Stand Up comedy night.
A packed Nantwich Civic Hall witnessed a classic evening of comedy which many will remember for a whole host of reasons!
It all started so casually with cheeky compere Dave Twentyman.
He's the one with the swagger and smile… the mate who always managed to charm your mum when you were in your teens.
You'd have to be a real oddball to dislike Dave, and because of that he knew how far too push and when to pull back. He proved the perfect set-up man.
First act Dave Williams helped to stoke the fires nicely.
Although hit and miss at times, some of his sharp one-liners struck home with real resonance. The "chipolata of optimism" is a phrase worth banking for later use, at least.
But he was followed by possibly the star of the night, Nick Doody.
It's easy to see why this brilliantly quick-witted comedian was snapped up by the US legend Bill Hicks as a support act.
Doody combines insightful observation with a rapier-like eye on a whole range of scenarios and stories.
His "traces of horse" gag was clever and just very funny…and he milked it for all it was worth as the audience lapped it up.
Final act Rob Deering's performance was unique in many ways, and one which will live long in the memory.
Rarely does one witness a live act who possesses such originality…and supreme confidence in the ability to deliver it.
With classic guitar riffs and clever play-back techno pedals, Deering (pictured) is in his element.
He injects his own wacky brand of humour into the mix, and you have a cocktail which is sure to thrill.
It was also pitched just right, with the brilliant final "delivery van driver" song send-up leaving most of the audience in tears.
A word for the promoters, who rarely fail in putting together a line-up that offers laugh-out-loud originality and entertainment. 
Whatever the audience, these nights at just £10 a ticket never fail to impress, and provide a feel-good fall-about end to a tough working week.
But I might feel different if the "coffeeeee" song is still in my head this time next week!
Roll on the next show, Saturday April 5.