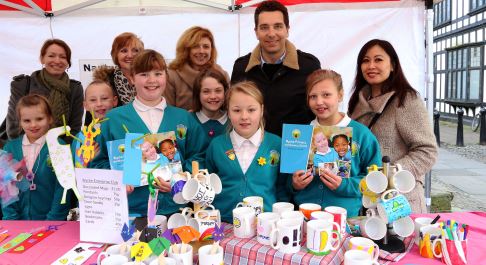 Budding young entrepreneurs at a Nantwich school enjoyed a taste of life in the retail world.
Pupils at Wyche Primary and Nursery School took a hands-on approach to learning about business and enterprise.
They were so eager to gain experience from a retailer's viewpoint, they set up and ran their own market stall.
With help from Nantwich Town Cllr Jon Hopkins and market supervisor Mike Elsby, they ran the stall in the town square for most of the day.
The children spent hours during lunch breaks and after school to decorate mugs, make pendants, jazz up bobbles, create book marks and brought to life some pebble pets.
Wyche headteacher Wei Lee said: "We are always keen to promote a creative curriculum and thought this experience would offer the children a deeper insight into business and enterprise.
"We were keen to develop the children's understanding of customer service; how to advertise; how to price items in order to make a profit and how to organise themselves.
"The children have gained a lot from this experience and they take away memories of both the fun and the difficulties of running a business, both of which will go some way to shaping their aspirations and sense of opportunity for their futures.
"The day was a massive success and we are pleased to have some budding entrepreneurs in the school!"
Nantwich MP Edward Timpson supported the school with a visit to the stall.
He was presented with a personalised mug and spoke to the children about the importance of perseverance and working hard to succeed.
He was impressed with the children's entrepreneurial skills.
Nantwich Town Crier John Parsons also came to support the children.
He was presented with a personalised bell ringing mug and gave the children a lesson in how to make public announcements.
And on the day, the children made a whopping £162 profit. They will be allowed to choose what they would like to spend the money on.