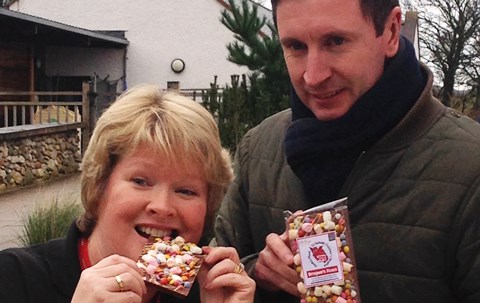 A Nantwich-based confectioner is backing a campaign to celebrate a hospice's 10th birthday.
Hanley's Premium Confectionery is joining forces with Hope House Children's Hospice to celebrate a decade of its partner children's hospice in North Wales, Ty Gobaith.
The artisan chocolate producer, based at Alvaston Business Park, is backing the Ty Gobaith – 10th birthday (TG10) campaign by becoming a TG10 food sponsor and linking with the much loved hospice.
Hanley's have created the "Dragon's Feast" chocolate bar for TG10 – packed with marshmallows, fudge, smarties and popping candy.
This year sees 10 years of Ty Gobaith caring for life-threatened and life-limited babies, children, young people and their families near Conwy.
Hope House and Ty Gobaith support families from Cheshire, Shropshire, North and Mid Wales.
The 'Dragons Feast' bar, named because of the Welsh Dragon on the TG10 Logo, is available on Hanley's Confectionery website as well as at food festivals and farmers markets throughout 2014.
Mark Gorrod, company director, hopes to sell 10,000 bars with a donation of 50p from each sale going to Hope House Hospice.
Sarah Kearsley-Wooller, Ty Gobaith fundraising manager, said: "We are delighted so many food producing companies have already joined TG10FOOD for the launch of this unique opportunity and look forward to working in partnership with many more companies across North Wales who want to join this exciting venture."
Any businesses keen to help can contact Ty Gobaith Fundraising Office on 01492 596581 or email [email protected]
Email [email protected], find them on Facebook @HanleysConfectionery or send a tweet @HanleysConfec