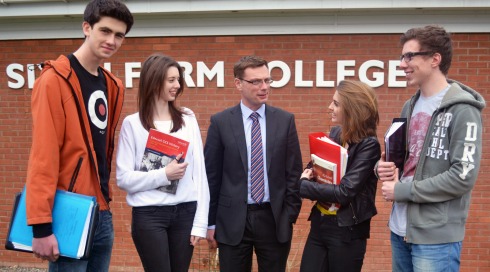 Staff and students at Tarporley High School and Sixth Form College are celebrating the highest accolade from Ofsted.
The South Cheshire 11-18 school scored "outstanding" in all aspects of the inspection.
This included achievement of pupils, quality of teaching, behaviour and safety of pupils, and leadership and management of the school.
In its report, Ofsted highlighted how the "ethos and culture of the school"creates an "enthusiasm for learning".
It says students are consistently demonstrating "outstanding behaviour" and "highly positive attitudes" across all aspects of school life.
Ofsted also commented on the "rapid progress" of all groups of students with particular praise for its "high-quality teaching".
The school's innovative Wednesday afternoon Enrichment programme for all students was also praised.
Headteacher Sarah Lee said: "We are very proud the achievements of our staff and students have been recognised by Ofsted.
"Our school vision is 'Aspire, Learn, Achieve,' and this endorsement from Ofsted truly reflects the vision of excellence we have for the school."
John Waddington, chair of school governors, said: "This is a tremendous achievement and one that everyone should feel immensely proud of."
The success rate of Tarporley High's sixth form was also praised.
Director of Sixth Form Jason Lowe said: "Our sixth formers are fantastic ambassadors for the school and the local community and I am delighted their efforts have been recognised by the Ofsted inspectors."
Details for applying for places at the school can be sent to [email protected] (sixth form) and [email protected] (year 7).