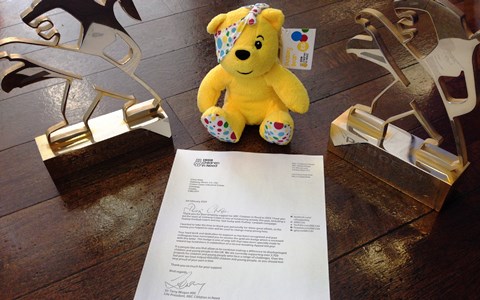 A Crewe and Nantwich car dealer has been praised for its efforts in raising money for charity.
Crewe Peugeot, based on Gateway, was congratulated for supporting BBC Children in Need in 2013.
The company received a letter from Sir Terry Wogan as a thanks for its contribution.
The letter also included a rare gold badge  – one of only 120 made for top fund-raisers.
Wogan praised Crewe Gateway for staging the fund-raising Pudsey football match, and the "Get Sudsey with Pudsey" car wash campaign.
In the letter, Wogan writes: "Your hard work and dedication to support us has been recognised and your colleagues have nominated you to receive the gold pin badge."
Phil Jones, at Crewe Gateway, said staff were delighted to be recognised and to receive the letter and badge.