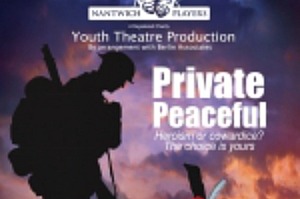 By Claire Faulkner
Michael Morpugo's 'Private Peaceful' is a deeply poignant and emotional novel.
So when I heard Nantwich Players Youth Theatre was staging the production, I wondered whether it would work with such a young cast.
I need not have worried.
Directed by Michaela Warrilow, the cast tackled the moving and sometimes distressing themes of war head on with obvious dedication, realisation and faithfulness to the story.
Matthew Medovnikov, a year 7 pupil at Brine Leas School, portrayed a strong and gripping "Tommo" –  a young solider who is reminiscing about his life at home and on the battlefield.
Cameron Chalmers demonstrated a natural aptitude for acting by playing a compelling and moving "Charlie Peaceful".
As always, the cast were supported by creative set and clever lighting design which complemented the story right to the end.
Nantwich Players Youth Production of 'Private Peaceful' is a must for anyone who wants to find out more about the consequences of World War 1, and the impact it had on those who served and lost their lives.
Well done to everyone involved.