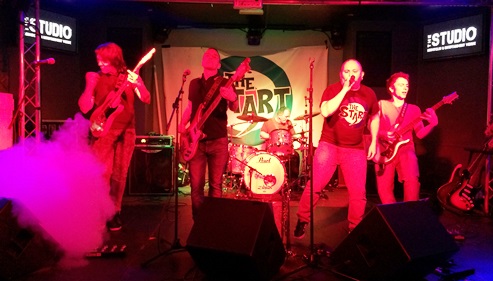 The Nantwich Jazz, Blues and Music Festival got off to a rip-roaring start at several venues in the town last night (April 17).
The Studio Nightclub & Entertainment Venue welcomed hundreds of music fans to their Castle Street venue.
These pictures by contributor Jonathan White show two bands, SWaY and The Start, performing at The Studio live during the night.
Also performing last night was home-grown band BlitzKids, whose latest US-produced album is proving a big hit on a national scale.
BlitzKids played an acoustic set at a packed White Horse pub on Pillory Street.
And at Nantwich Civic Hall, Thea Gilmore fabulous voice and lyrics entertained a packed audience.
Organisers are expecting up to 40,000 people to attend the Festival over its five-day period, April 17-21.
There will be over 120 performances at 16 venues across Nantwich.
Entry to the majority of the festival pub gigs is via a £7 wristband on sale from the Crown Hotel reception, a wristband booth on Nantwich Square, Nantwich Civic Hall and Tourist Information Centre, and online.
Headline acts include Thea Gilmore, Deborah Bonham, Bruce Foxton's From the Jam, and Martin Turner plays the music of Wishbone Ash.
Musical genres will include jazz, blues, swing, pop and rock.
Over £1 million is expected to be injected into the town's economy.
The Railway Hotel on Pillory Street will provide their own Easter live entertainment, with free entry to all events.