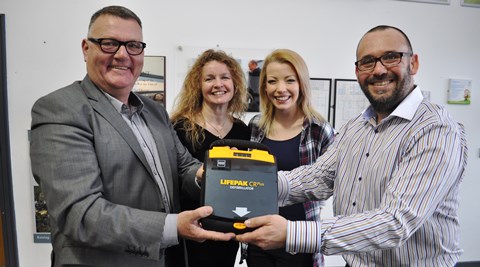 Reaseheath College in Nantwich has become the first college to receive defibrillators from The Oliver King Foundation.
Eight life-saving kits are being placed around campus and will be used in the event of anyone having a cardiac arrest.
Thirty-eight staff members are already trained to use them and many more will undergo training.
The Oliver King Foundation was set up in memory of a 12-year-old who died from Sudden Arrhythmic Death Syndrome (SADS), which causes sudden death in apparently healthy young people.
Nineteen youngsters a week die from the condition.
Reaseheath students and staff raised over £10,000 for the foundation when it was the college's RAG charity in 2012.
The foundation, which has backing from MPs and councillors, aims to put defibrillators in community areas where they will be available for essential and immediate first aid in the "golden" four minutes following cardiac arrest.
Reaseheath College Chaplain, Drew Walker, who is overseeing the project, invited Oliver's dad Mark King, the charity's founder, to the college to hand over the equipment.
Drew said: "Having the defibrillators readily available on campus will help us in our efforts to provide a completely safe environment for our students, staff and visitors.
"We've already had lots of positive feedback from our involvement with the scheme."
(Pic: Mark King with Chaplain Drew Walker, and student welfare officers Amanda Pointon and Carys Jones)