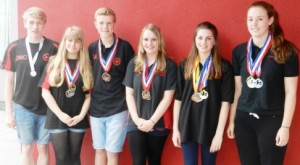 Five swimmers from Nantwich Seals did their club proud at the Wrexham Spring meet with 27 other teams from England and Wales.
Frankie Timmis, Izzy Morrey, Ellie Frampton, Max Austin and John Crawford all took part at the two-day event.
And they brought home a fine collection of personal bests, medals and county times.
In all, they recorded 20 PBs out of a possible 30 and a haul of 22 medals, including golds for Izzy, Ellie and Frankie.
Ellie achieved more county times.
On the same weekend John Crawford and Becky Emeny attended the North West Regional Youth Championships at Liverpool Aquatics.
Both swam well and John achieved a landmark for Nantwich Seals, qualifying for four finals and swam in three, achieving 6th 50m breaststroke, 4th 200m butterfly and 3rd in 400m individual medley.
"All the swimmers showed that their sheer hard work, determination and dedication to training can pay off," a Nantwich Seals spokesman said.
"We are a small fish in a big pond with only 4.5 hrs of training per week. We believe in progression, not overload. Our club is run by dedicated volunteers only.
"This has been a resounding success for a small team well done to all those who attended."