New figures show Cheshire East Council wardens dished out just 25 fines for littering across the whole borough in 2013-14.
And there were just NINE fixed penalty notices for dog fouling in the region for the same period.
In  five years since Cheshire East Council was formed, it has issued 66 fines for dog fouling, and 183 for littering.
The figures were revealed as the latest blitz on rubbish by Nantwich Litter Group bagged 23 sacks of litter in one area of the town in just one hour.
The group has grown in number as residents in the town become fed-up with the problem.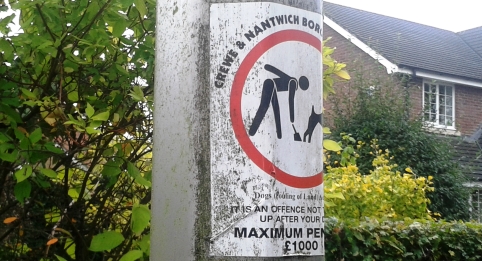 Cheshire East employs just six community wardens and two dog wardens to tackle the problem of littering and dog fouling which many residents raise concerns about.
Cllr Brian Silvester, of Willaston and Rope ward, said: "The number of fines handed out in the first five years for littering and dog fouling are derisory.
"With a population of over 370,000, covering 450 square miles, to hand out just 15 fines for dog fouling over the last two years is pathetic.
"To issue just 49 fines in the last two years for littering is simply not good enough.
"Dog fouling and littering are two of the biggest concerns of local residents and the council should be taking the problem far more seriously.
"Also dog fouling is a potential health hazard, especially to the young.
"The council should be using their powers to issue fines far more frequently, and more staff should be empowered to issue fines as they go about their everyday duties.
"Also we should be working with the PCSOs and our parish councils to empower them to hand out 'on the spot' fines."
Nantwichnews has contacted Cheshire East Council and we still await a comment.
In the latest blitz, Nantwich Litter Group collected 23 sacks of rubbish in  one hour in the Beam Street, Manor Road, Prince Edward Street, and Albert Street areas of the town.
Mary Dodd, spokeswoman for Nantwich Litter Group, said: "We are working to improve awareness of litter issues by encouraging residents and traders to take more responsibility for litter, sending speakers in to the local schools to talk to the children and by the presence and activities of our volunteers in the town."
Another crackdown is due to be held on Wednesday May 28.
Anyone willing to lend a hand will be made very welcome and equipment can be provided.
Contact Team Leader Joyce Webb on 01270 626435, email [email protected]