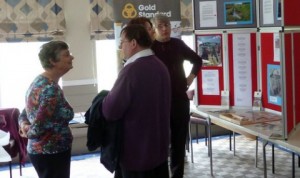 Nantwich Museum featured a part of its "Celebration of Salt" exhibition at the Salt Sunday event held at Winnington.
The exhibition focussed on the literary celebrations of the local salt industry.
In particular the "Blessing the Brine" hymn which formed a part of the celebrations of the gift of the brine which took place for a time on Ascension Day.
A painting by Nicholas Ferenczy, entitled Blessing the Brine, was commissioned for the original exhibition and depicts the event.
Copies in postcard form can be obtained from the museum shop.
Salt Sunday was initiated in 2007 by the Bishop of Birkenhead as a celebration of the natural resource and a means of strengthening the links between salt-related industries and the community.
Contact Nantwich Museum on [email protected], call 01270 627104, visit www.nantwichmuseum.org.uk