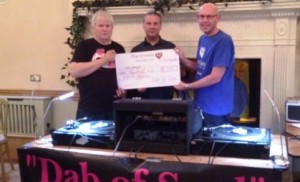 Nantwich-based The Cat community radio have handed over a cool £1,050 to Christie's cancer charity – thanks to big-hearted listeners.
Radio presenter Chris Anderton gave listeners a chance to nominate their favourite soul track on his show "A Dab of Soul".
The nominations helped Chris and The Cat co presenter David Lucas create a "Listeners' Tunes of 2013".
And it was such a success, a CD of the tracks was distributed in return for a £5 donation.
More than 200 copies have been sold to date.
"A Dab of Soul" evenings are also held every three months at the Crown Hotel in Nantwich.
Donations to the Christies Cancer Charity were selected as it is the charity supported by Crown Hotel owner, Susan Martin.
Chris Anderton said: "The response from my request for listeners to nominate their favourite track was immense.
"We wanted to somehow capture that, so producing a CD with all of the tracks on, was a great idea.
"We are only too pleased to be able to combine producing this memorable CD alongside raising money for such a worthy cause."
The Christie Charity supports the work of The Christie Hospital, by making the hospital as comfortable as possible.
In 2013, the charity accrued more than £13 million thanks to fundraisers.
Neil Tinsley, of Christies, accepted the cheque at a presentation at The Crown on May 17.
To tune in to "A Dab Of Soul"  visit www.thisisthecat.com on Mondays 9pm to 11pm.