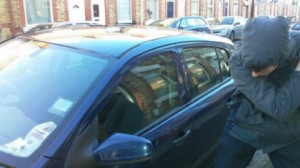 Police in Crewe and Nantwich are warning residents to keep cars secure  in hot weather after a rise in thefts from vehicles.
Cars and vans with windows open or doors unlocked have been targeted by opportunists over the last two weeks.
Police say 80% of the thefts have happened on vehicles left unsecure by owners.
Inspector Christian Watkins said "This is particularly frustrating.
"During warm weather, car owners may be tempted to leave windows open for ventilation.
"My advice is simple – protect your car from opportunist thieves who in these circumstances are presented with ample opportunity to rifle through your car or van for valuables such as phones, cash, and sat-nav systems."
Sgt Dave Levins offered practical advice to car owners.
"When leaving your car, even if you're parked on your own driveway or outside your home, take a minute to double check it is fully secure.
"Do not leave valuables or equipment on display – take valuables with you or lock them away.
"Even a pair of sunglasses can be appealing to a would-be thief.
"I would also remind car owners it is often the case that insurance policies do not offer recompense in cases where owners have failed to take reasonable steps to protect their property."
Anyone who spots suspicious activity should contact Cheshire Police immediately on 101.
Keep up to date with the latest policing news in your area by following @NantwichNPU and @CreweNPU
(pic for display only, courtesy of StaffsLive)