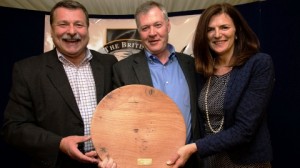 A local cheesemaker scooped more than 20 accolades at the 2014 British Cheese Awards.
Belton Cheese, regular winners at the International Cheese Awards at the Nantwich Show, impressed judges at the Royal Bath and West Show.
They were crowned Best English Cheese with a Traditional Cheshire Cheese, and went on to win 22 awards.
Belton, based in Whitchurch, returned to handcrafted Traditional Cheshire cheese two years ago.
Since then the company has grown across the UK and as far afield as Russia.
Justin Beckett, Belton managing director, said: "We are absolutely delighted to have won this special award for Best English Cheese with a Traditional Cheshire as this is our local specialty and very close to our hearts.
"These 22 awards are the culmination of the dedication and hard work of everyone at Belton Cheese, this is a fantastic start to the show season."
This year's International Cheese Awards takes place in Nantwich on July 29 and 30, combining with the Nantwich Show on July 30 at Dorfold Park.