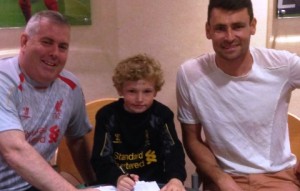 A budding goalkeeper from Nantwich has signed for Liverpool – at the age of eight!
Frankie Phillips, son of former Crewe Alexandra keeper Steve Phillips, has put pen to paper for the Premier League giants.
Frankie, a year three pupil at Millfields Primary School, is keen to follow in his father's footsteps and has been coached in goalkeeping by his dad since the day he could walk!
However, Steve feels it is now time for Frankie to move to the next level.
"I'm really excited to watch Frankie develop at the best goalkeeping academy in the country," Steve said.
"Having worked for Liverpool myself in the past, I know this is the best place for him to become the best he can be!"
Frankie has signed a one-year contract with the Premier League club's academy.
It means he will travel to train at Liverpool three afternoons a week.
The youngster, pictured with his dad at Liverpool's academy, said: "I'm just looking forward to getting started!"
(picture courtesy of Steve Phillips)