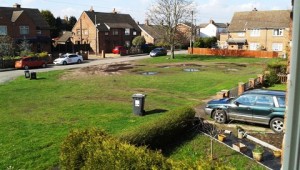 Highways chiefs have vowed to fix a parking problem in Nantwich which has turned a village street into a "ghastly mess".
Residents living on Circle Avenue in Willaston say motorists parking on grass verges have caused an eyesore.
Now Cheshire East Council says it is putting a programme together to tackle similar grass verge problems across the borough.
Cllr Brian Silvester, of Willaston and Rope ward, said: "The green at Circle Avenue is a ghastly mess, with the grass worn away and the rain lying in puddles. Urgent action is needed.
"If this green was in Nantwich or Wilmslow or Alderley Edge it would never be allowed to get into the state it is so there is no reason why my residents in Circle Avenue should have to put up with it just because it is a mix of social and private housing.
"More parking provision needs to be provided so the green can be reinstated and protected. The residents have had to live with this eyesore outside their homes for far too long."
Local resident Simon Young said: "Steps taken now would improve road safety and save the council money as it would cost a lot more for repairs to the grassed area, which will need to be done in the very near future.
"Kids bike and run around the small parking area and the narrow road leading to it.
"Cars and vans park along this narrow road and this restricts any emergency services getting access. I'm surprised there hasn't been a serious accident caused by a vehicle hitting a playing child."
A spokesman for Cheshire East Highways said: "The area on Circle Avenue is being damaged by residents overrunning the verge, if we were to repair the verge and have no preventive measures in place it would be an impractical exercise.
"We are putting a programme of works together to protect verge areas from vehicular access and Circle Avenue is being assessed for inclusion.
"Each site warrants a different approach so when we have decided on what type of construction would be used on Circle Avenue, and the works are completed then the verge can be reinstated."