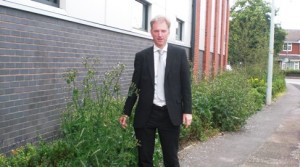 A councillor called on retail giant M&S to weed out a plant problem plaguing its Nantwich store.
Nantwich Town Cllr Andrew Martin says unsightly weeds are turning Beam Street "Simply Food" store into an eyesore as the town prepares to welcome Britain in Bloom judges.
"Some of the weeds are around four foot high," said Cllr Martin, pictured by the store.
"This is very disappointing considering this is a new store.
"A lot of work is being put in by local people into the town's entry in Britain in Bloom, and I would not like to see anything jeopardise these efforts."
Cllr Martin, who represents Nantwich South and Stapeley on Cheshire East Council, says he has been in touch with the company.
Judges for North West in Bloom are due to visit the town on July 17, with judging on July 24.
A spokeswoman for M&S said they had been in touch with the property owners to resolve the problems.
"We share the concerns of residents and continue to liaise with the property owner regarding the long-term upkeep of the garden," she added.
"In the interim, the team at M&S will invest immediately in the maintenance of the area."
The 9,000 sq ft M&S store opened in April last year, creating 60 new jobs for the area. It also has a cafe and in-store bakery.