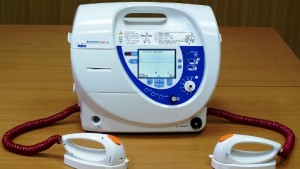 Two Nantwich villages are to benefit from new life-saving defibrillators.
Willaston Primary School is receiving one of the defibrillators thanks to a donation from South Cheshire Harriers.
The Harriers are supporting the cardiac charity SADS UK and its national "Big Shock Campaign" to make defibrillators available in schools.
Anne Jolly, founder of SADS UK,  said: "SADS UK is grateful to the South Cheshire Harriers.
"By donating a defibrillator to Willaston Primary School, they are giving pupils and personnel the best chance of survival if they suffer a cardiac arrest on the premises.
"Using CPR alone provides a 5% chance of survival but using the defibrillator as well increases the chance of survival to over 50%. Early defibrillation is vital."
Meanwhile, the village of Burland on the A534 west of Nantwich is also receiving a defibrillator.
The machine will be located in the Burland Stores.
Residents in the village will get a chance to train with the unit at an awareness session organised by Burland Parish Council.
North West Ambulance staff will run the session on July 14 at the Goodwill Hall, in Faddiley, from 7pm.
Any other South Cheshire communities interested in receiving a defibrillator, can contact SADS UK on 01277 811215, email [email protected], or visit www.sadsuk.org
(pic by Alex Spade, creative commons licence)