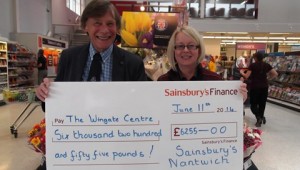 Wingate Children's Centre near Nantwich has been boosted by more than £6,000 from the town's Sainsbury's store.
A cheque for the record amount of £6,255 was handed to the centre's manager Chris Bridgman, who is retiring after 11 years at the Wrenbury facility.
In total,  customers and staff have helped to raise £7,562 for the Middlewich Road store's Charity of the Year.
Chris, who is handing over the running of Wingate to Rona Moroney, said: "I would like to express my gratitude to the staff and customers at Nantwich Sainsbury's for their generosity and support.
"I am amazed at how much money has been raised. The difference it will make is tremendous.
"I am also humbled by the tremendous efforts of the staff to create fun activities like a rounders match and holding a cake sale in their free time to raise funds for the Wingate Centre."
The money has been raised by the generosity of customers and fundraising activities by staff at the store.
Each department in the store chose a different activity, and some still have not yet been completed.
So they are to keep the Wingate Centre as the store's chosen charity for another year.
(pic: Chris Bridgman and Sainsbury's commercial manager Katie Harrop)