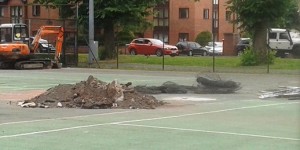 Council chiefs have defended a move to close Nantwich tennis courts during Wimbledon fortnight, for "health and safety" reasons.
Town councillors and residents criticised the move this week to rip up the three hard courts at Barony Sports complex, during one of the busiest periods of the year.
But Cheshire East said there was no evidence usage increased during Wimbledon fortnight, and that the courts needed urgent renovation.
A Cheshire East Council spokesman said: "The tennis courts are undergoing a £30,000 renovation in time for the start of the summer school holidays.
"We are committed to ensuring that we put residents first and therefore safety comes first.
"In this case we considered it vital for health and safety reasons to resurface the courts, at the first available opportunity, in time for the summer holidays when we know usage peaks.
"There is absolutely no evidence to support the assumption that tennis playing increases over Wimbledon. We do know, however, that tennis playing peaks during the summer holidays.
"The Council's Everybody Sport and Recreation has arranged that for those wanting to practise their serves and game shots on the new un-lined courts in the three-week standing period, the new courts will be available at no charge.
"The facilities needed an upgrade because they were not suitable for Lawn Tennis Association competitions."
Cllr Brian Silvester had called the decision "madness", while many residents also criticised it.
One tweeted: "We don't need tennis courts – what we need is more houses in Nantwich! The lunatics have taken over the asylum."
And another said: "I thought it was a joke when I cycled past – absurd actions indeed. Pathetic even."