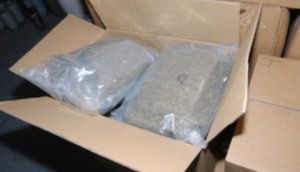 A Nantwich man who was part of an international criminal gang smuggling cannabis into the UK, has been jailed for eight years.
Baan Klootwijk, 48, of London Road, was the co-owner of Baan Flower Trading, which fronted as a cover for importing boxes of cannabis.
Klootwijk, who co-ran the flower importation business in Market Drayton, would travel to flower auctions in Amsterdam but would actually be visiting an industrial unit to load boxes of cannabis.
He would also liaise with those supplying the drugs, who have since been dealt with by Dutch authorities for exporting controlled drugs to various countries across Europe.
Klootwijk (pictured, right) would then return to the UK by air, separately to the consignment.
But the Nantwich man and eight others were found guilty and jailed at Birmingham Crown Court for a total of 42 years in prison after a lengthy investigation by West Mercia Police's Serious and Organised Crime Unit (Socu).
In November 2012, officers executed drugs warrants at units at the Adderley Road Industrial Estate in Market Drayton and seized hundreds of kilograms of cannabis.
It followed a covert operation that gathered evidence of skunk cannabis being delivered to the unit on an almost weekly basis for nearly 12 months.
The drugs were being smuggled into the UK from the Netherlands using trucks delivering flowers from Rinjsberg to Market Drayton and the cannabis was then distributed to drug dealers across the UK.
The warrant was planned to coincide with one such delivery and officers recovered 450kg of skunk worth up to £6 million at street value.
Ten people were arrested at the scene or in the following days, all on suspicion of the offence of conspiring to import cannabis.
However, this did not stop the group's activities and in February 2013, a further seizure of 61kg of skunk was made by UK Borders Agency at Harwich docks, which if sold on the street would have been worth up to £900,000.
As well as Klootwijk, those jailed included fellow co-owner of Baan Flower Trading David North, 50, of Blore Road, Hales, Market Drayton, who was sentenced to seven years imprisonment.
Under North and Klootwijk were a number of other subjects who worked for them and were directed by North to conduct operations.
Barrie North, 71, of Audlem Road, Woore, near Nantwich, was sentenced to two years imprisonment.
David Thompson, 42, of Laburnum Avenue, Cannock, was sentenced to five years imprisonment.
Lorry driver Stuart Grant, 42, and of Deansfield Close, Brewood, Stafford, was sentenced to five years imprisonment.
Ashleigh Watkin, 38, of Rowney Close, Loggerheads, Market Drayton, was sentenced to four years imprisonment.
Jamie Grant, 26, of Sovereign Lane, Ashley, Market Drayton, was sentenced to 32 months.
Mark Ballinger, 33, of Langley Walk, Farnborough, Hampshire, was sentenced to 40 months.
Craig Little, 34, of Duffield Road, Middleton, Manchester, was imprisoned for 12 months.
Det Insp Dave Andrews, of Socu, said: "I would like to thank the small team of Socu officers who worked for some years on the case.
"Without their professionalism we would not have reached this stage.
"We benefited from the help of Dutch law enforcement, as well as agencies in the UK, all of whom contributed evidence to the investigation, leading to these convictions.
"We would like to thank them for their co-operation, everyone's hard work has resulted in the destruction of an organised crime group who were importing large amounts of cannabis into the UK on an almost weekly basis."
(Pics courtesy of West Mercia Police)