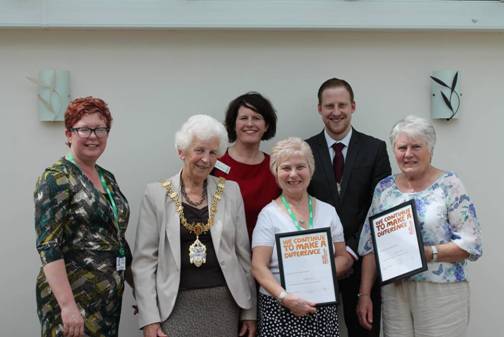 Volunteers at Nantwich's local Macmillan Cancer Unit have won a national award for long service in supporting cancer sufferers.
Gill Pass and Lorna Lakey were presented with a Bronze Five-Year Service Award for their time at Leighton Hospital's Macmillan centre by Mayor Pam Minshall and Macmillan senior development manager Nicola Cook.
The ceremony took place as part of Macmillan's Volunteer Week – a chance to say thank you to all volunteers.
Julie Pieczarka, Macmillan Cancer information and support manager, said: "I am delighted the hard work and dedication of Gill and Lorna has been recognised with this award.
"They both give up time on a weekly basis to support the Unit, alongside our team of brilliant volunteers.
"They provide a personal touch for patients at a vulnerable time of their life."
Nicola Cook, senior Macmillan development manager, added: "When people are living with cancer it is the small things that really make a difference to your quality of life.
"The volunteers based at the Macmillan Unit provide the cup of tea or a listening ear which enables people to live their life with cancer.
"Gill and Lorna are continuing to make a lasting difference to people diagnosed with cancer in South Cheshire."
The Macmillan Cancer Unit is looking for additional volunteers to join its team.
Julie added: "There are a number of different volunteering opportunities available within the Unit, all of which will make a difference to those affected by cancer."
To find out more, contact Julie on 01270 273603 or email [email protected]