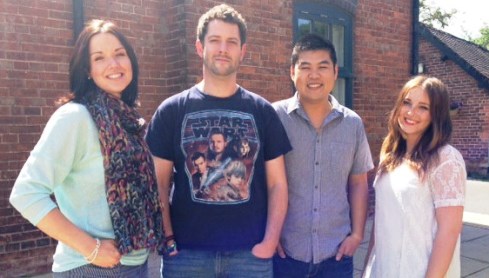 A digital media company run by a young Nantwich woman is expanding and recruiting more staff.
Fiona Ridgway, who runs R1 Digital Media Ltd, is looking to add to the team at their new offices in Crewe Hall Farm.
The former Brine Leas School student says the company has gone from strength to strength after landing a number of big national clients.
The company works for well-known brands like Reebok and UAV Engines  as well as local organisations like Alsager Town Council and charities like the Gingerbread Group.
Fiona was recently nominated in the top 15 Women of the Year in Digital, as nominated by The Drum.
Now the company is looking to expand its digital design and development team and looking to local talent to fill the roles.
"It's been an incredible year for us so far," said Fiona (pictured, left)
"Recent client wins have really boosted our brand and pushed forward our team's determination to win more awards for our high level of service.
"We are now looking to build on our successes and bring in two key positions in the team so we can deliver an even better marketing service to our clients.
"The digital marketing industry is getting really exciting, it's certainly changing the way we all do business online and there is an opportunity to get involved and share the fantastic ideas and technology that is being released."
The two new positions include Web Developer and Digital/Web Designer.
R1 is currently working with Nantwich Show organisers to promote the July 30 event across social media.
"Growing up as a child in Nantwich, it's really nice to give a little back to the community and we are really hoping to get more involved with local people and events over the next year," she added.
Anyone interested in the new positions should email Fiona on [email protected] or call 01270 323 007.