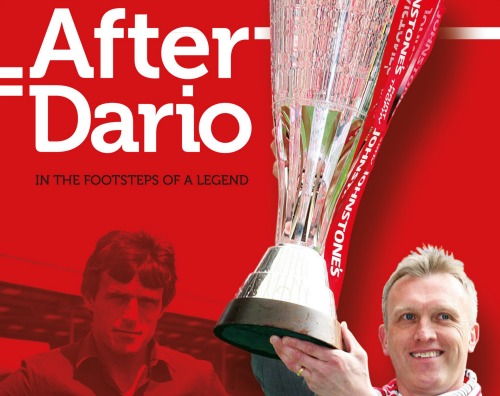 The latest Crewe Alexandra book by local author Jules Hornbrook has hit the bookshelves in Crewe and Nantwich.
"After Dario" is a personal perspective from a long-time supporter, documenting the transition from Dario Gradi to current manager Steve Davis.
It follows Hornbrook's previous football titles, She Wore A Scarlet Ribbon (2011),  and The Gradi Years (2000).
The book covers the turmoil that surrounded Steve Holland and Gudjon Thordarson's stints in charge, the fantastic Wembley seasons, pre-season chaos and player sales, and the dramatic escape from relegation last season.
Current Alex boss Davis described survival in League One as a "magnificent achievement" and it gave Hornbrook some dramatic material for the final chapters.
"The last home game against Preston kept everyone guessing, but thankfully it ended well and allowed me to conclude the book on a high," he said.
"I have tried to cover every angle, ask a few probing questions and convey the emotions experienced by supporters on match day.
"It's very much for Alex fans; that was always the intention."
"After Dario" is priced £8.99 from the Alex club shop, Waterstones, Nantwich Book Shop and online with Amazon (as a paperback and eBook).
Hornbrook is currently working on an authorised biography with Davis, covering the manager's childhood in Birmingham, through his successful years as a professional footballer and onto management with Nantwich Town and the Alex.
The author's blog can be followed at http://jules-hornbrook.blogspot.co.uk