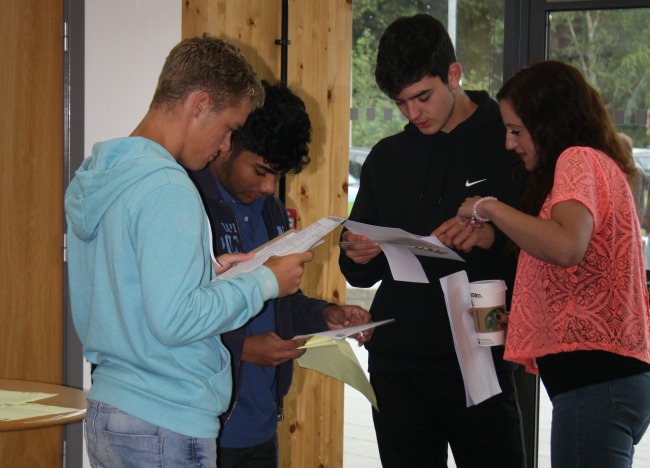 Students at Brine Leas and Malbank School in Nantwich were celebrating another excellent set of GCSE results today (August 21).
More than 80% of Brine Leas students in Nantwich achieved A* to C in both Maths and English, today's results revealed.
The headline for five A* to C, including English and Maths, was over 73% and over 87% achieved five or more GCSEs at A* to C.
Those achieving the EBacc (English Baccalaureate) at Brine Leas weighed in at 40%. A* and As came in at 27%.
Headteacher Andrew Cliffe paid tribute to a number of students who got Ds and Es but surpassed their target grades.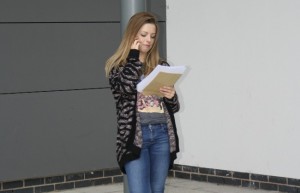 Mr Cliffe said: "I am delighted and thrilled with this year's examination results as virtually all of our headline figures are, in fact, better than the last two years.
"It was with some trepidation that we waited for this year's GCSE examination results.
"Dire warnings have come from the Government and the exam boards about not expecting too much at all.
"Our students have done incredibly well and deserved their success.
"As ever the results for our young people are a result of team work with parents, staff and students working incredibly hard to achieve their very best.
"Most students have exceeded their target grades and the headlines this year are very good."
Many ex Year 11s will be joining the sixth form (BL6) with those from other schools.
At nearby Malbank School and Sixth Form, 80% gained at least 5 A* to C passes in their GCSE results.
Headteacher Jeannette Walker said: "We are delighted the hard work of our students and staff has been rewarded.
"It was lovely to see so many parents sharing in the celebrations of their children. It's been a team effort."
At the heart of the school's success were excellent results in English and Maths – significantly above the national figures.
74% of students gained at least a C in Maths compared to 62% nationally, and 71% gained at least a C in English compared to 61% nationally.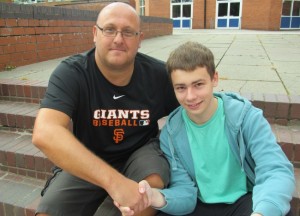 Alan Symms, Head of Upper School at Malbank, added: "Given the volatility of results across the country this year, we are delighted that students achieved results that reflect their dedication to their studies and that so many are returning to our Sixth Form College so that we can continue our partnership with them."
Outstanding results were achieved by high fliers Alex Leigh, Jessica Mitchell, and Jemima Lucas, who bagged 30 A* grades between them.
A significant group of students have also made outstanding progress since joining the school and out-performed their challenging target grades.
These include Rachel Gibb, Elena Gillespie, Joseph Muten, India Nott, Alex Oultram, Beth Ravenscroft and Chelsea Richards.
Geoff Watts, chair of governors, said: "Once again, Malbank staff, students and parents have gained the recognition that they deserve.
"In an ever-changing educational landscape these results are particularly pleasing."