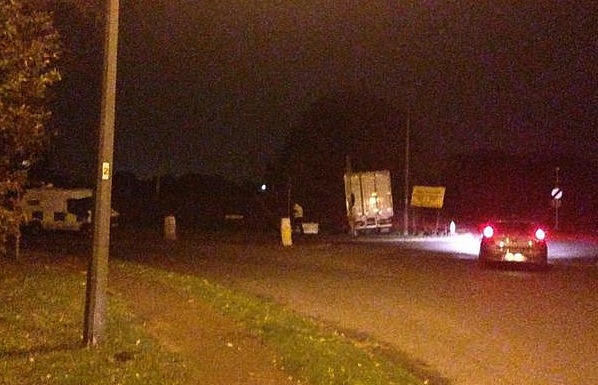 Reaseheath residents in Nantwich have renewed their plea for safety measures on the A51 after another accident.
Now they are forming a new residents association in a bid to fight for the bypass around the village they say is long overdue.
There have been a number of accidents on the stretch outside the college in the past few weeks, including one in which pelican crossing lights were destroyed.
At a Reaseheath College meeting last month, Principal Meredydd David vowed to pursue the authorities to boost improvements.
This was after he revealed that any bypass around the village would not start for at least three years once the new Kingsley Fields housing development begins.
But residents are angry and claim Cheshire East Council, Cheshire Police and Reaseheath College are ignoring the problem.
Resident Jonathan Bradley said: "How long do we have to wait until a death?
"No one is taking control of this. Young students are walking across that road and chancing their luck.
"There will be a story soon that a student is killed on that road. I've stood and used the crossing, the lights have been on red, and lorries have just driven through them.
"I'm more cautious but students aren't. It's not sustainable and there will be a major accident.
"Why should we wait for new houses to be built before a bypass? It's the wrong way around."
Fellow resident Vicky Higham added: "Another accident this evening, the current roadworks seem to be compounding the traffic issues.
"We continue to have motorists ignoring speed limits and not showing any courtesy to residents and pedestrians often ignoring amber and red lights at the pedestrian crossing.
"It's happening too many times."
Reaseheath College Principal Meredydd David said the college is continuing to liaise with Cheshire East Council's highways department to improve safety measures on the A51 outside the college.
He said: "As promised at the consultation with local residents in September, Reaseheath is doing all it can to persuade the highways department to strengthen traffic calming methods on the highway."
A Cheshire East Council spokesperson said: "Cheshire East Highways has recently undertaken an extensive road safety route review on the A51 in this area.
"The review resulted in the speed limit being reduced to 30mph.
"Having carried out the engineering solution, we will be working with Cheshire Police on enforcement of the speed limit, and with Cheshire Fire & Rescue, our partners in road safety education, on making drivers more aware of the risks.
"The construction of a bypass to provide relief around Reaseheath College and the Equine Centre will be taken forward as part of development proposals for Nantwich."