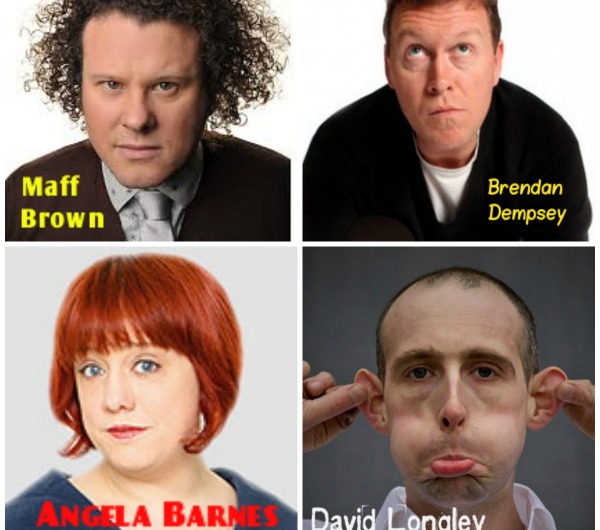 After a long, hard week at work the easy thing to do on a Friday evening is crack into a bottle of wine and stop the sofa floating away.
But that would mean missing out on arguably the best night's entertainment Nantwich has to offer – the Very Best in Stand Up comedy at the Civic Hall.
This monthly treat never fails to please – and the latest offering last night (November 7) was no exception.
Four top class comedians (well, three comedians and one comedienne!) took to the stage for a 3-hour performance to a sell-out audience.
It's fantastic to see the Civic Hall rammed full and the atmosphere was bristling even before it started.
Compere Maff Brown was the perfect appetiser. The curly-haired funnyman struck a rapport immediately with the crowd.
His childish style and gags, which became more outrageous as the night went on, had us all in good heart prior to each act strutting on stage.
And one of the stars was Angela Barnes, who made her debut here in this show.
More familiar as a face on comedy TV shows, Barnes demonstrated she can switch to the live format with ease.
She possesses a strong range of material, some which works brilliantly and allowed her to build on it. A great performance.
In contrast to her fast, chatty style was Brendan Dempsey – the laconic Irishman with the startlingly realistic dinosaur impression!
But Dempsey's brilliant 'accident helpline' wind-up was memorable, along with his sharp observation of children on a plane.
David Longley completed the night, and with the crowd suitably lubricated, his outrageous take on sex went down a storm.
He pumped out gag after gag, some which left even the most open-minded punter wide-eyed with shock, but hilarious all the same.
This comedian certainly knows how to monkey around!
It was another big slap on the back for promoters Civic Comedy, who already have another four acts lined up for the next show on December 5.
For a tenner a ticket, it's a no brainer.