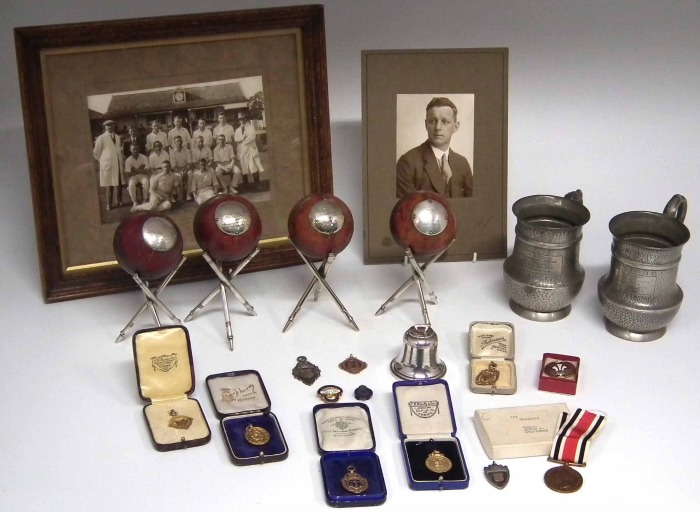 Mementoes of legendary Nantwich cricketer Edwin 'Ted' Steventon are expected to fetch hundreds of pounds at auction.
Steventon was the fast bowler and all rounder who dismissed 1,554 senior A batsmen in his illustrious amateur career.
Now memorabilia including medals, photographs and other items are to be sold off by Nantwich fine art and antiques auctioneers Peter Wilson.
The collection includes four of the balls he used to rack up the enviable tally, presented to him by his teammates at Nantwich Cricket Club, each on silver-plated stands formed by cricket stumps.
There are also medals; a silver presentation bell inkwell; two pewter cricketing tankards; a Nantwich Cricket Club team photograph and a portrait photo of Steventon in his heyday.
The collection will be sold as a single lot to ensure it remains together and is expected to realise £300-400 in the auctioneer's important fine sale on November 26-27.
Steventon joined Nantwich CC as a schoolboy. His first association with the league was in 1912, when he joined Crewe Alexander CC.
His best league performance came in 1921, when bowling for Nantwich in a Senior B match, he dismissed the entire Haslington team for three runs!
In one of his many appearances for Cheshire, he took six Staffordshire wickets at Porthill for six runs.
On his retirement, he could claim to have bowled 1,554 Senior A batsmen, a tally without equal at the time.
His partnership with Tommy Maybury was renowned as one of the most destructive in the history of the North Staffs League.
Between them they took 3,000 league wickets for Nantwich from 1920 to 1939. The two were honoured in 1952 by becoming Nantwich CC's first life members.
Less well known was Steventon's footballing career as a goalkeeper. After playing for Nantwich, he joined Shrewsbury Town in 1913. The team won the Shropshire Senior Cup and were runners-up in the Birmingham League.
Trials with Aston Villa and appearances with its nursery team, Stourbridge and Nantwich were followed by his debut in 1921 as an amateur with Stoke City.
He retired in 1940 after captaining Nantwich for 16 successive seasons, but completed 26 years as the club's secretary in 1947.
The owner of a Nantwich footwear business, he was also chairman of the Beam Heath trustees for many years.
He died in 1961 aged 69, his funeral being attended by civic leaders, cricket league and other sporting representatives as well as hundreds of friends and associates.
The memorabilia will be on public view alongside more than 700 lots at Peter Wilson's Victoria Gallery, on Sunday November 23 from 2-4pm; Monday, Tuesday and Wednesday November 24-26, 10am-5pm; and on the mornings of the sale from 9-11am.